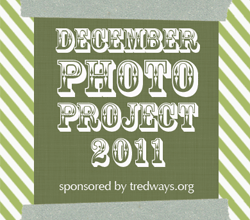 This year I will be having fun participating in the
December Photo Project
. Thank you to Christine over at
A Good Life
for making me aware of this neat idea.
Since it is now the 5th, I am posting 5 photos here in an effort to play catch-up. I am not sure how this works, but I am just taking pictures of things that are a part of my day in some way that strike a cord with me as being, well, me. A reflection on what happens here. Maybe it will help me appreciate the little things just a little bit more.
December 1: Just a lonely old weed waiting on winter
December 2: Small town parade - a few fire trucks, some Christmas lights, and the kids are happy for hours.

December 3: Creepy futuristic Christmas trees remind me that sometimes the simple things in life are often better.
December 4: Our new wood stove. The best idea we have had in a while.



December 5: Taking a ride with Grandpa. I want him to be overjoyed by this forever.